Algae Omega Nordic Natural certified vegetarian/vegan Daily supply of DHA/EPA
Shipping:

Free Shipping
Complete product description
Description
-Brain & Heart Health
-Healthy Immunity
-Vegetarian Marine Omega-3 for Cognition, Eye Health, Heart Health, and Optimal Wellness
-NonGMO Verified
-Third-Party Purity Tested
-Certified Vegetarian
Algae Omega is a pure vegetarian source of omega-3, offering a unique combination of EPA and DHA without the use of fish. We choose Nordic Natural brand because they are the most trusted name in omegas. Every batch of Nordic Naturals algae oils derived from special algae, not unlike the marine source, is tested by a third-party certified lab for environmental toxins, including heavy metals. All algae oils are in the triglyceride form and surpass the strictest international standards for purity and freshness (lack of oxidation).
Suggested Use:
Two soft gels daily, with food, or as directed by your health care professional or pharmacist. We suggest at lunch or dinner.
Two soft gels contain 715 mg total omega-3s, slightly less than the ProDHA Memory dosage per serving.

Supplement Facts
Serving Size: 2 Softgels
Servings per Container: 60
Total Calories Per Serving 10
Calories from fat 10
Total Fat 1 g, 2% DV
Saturated Fat 0g, 0% DV
Trans Fat 0g
Total Omega-3s 715mg*
EPA (Eicosapentaenic Acid) 195mg*
DHA (Docosahexaenoic Acid) 390mg*
Other Omega-3s 130mg
*Daily value not established.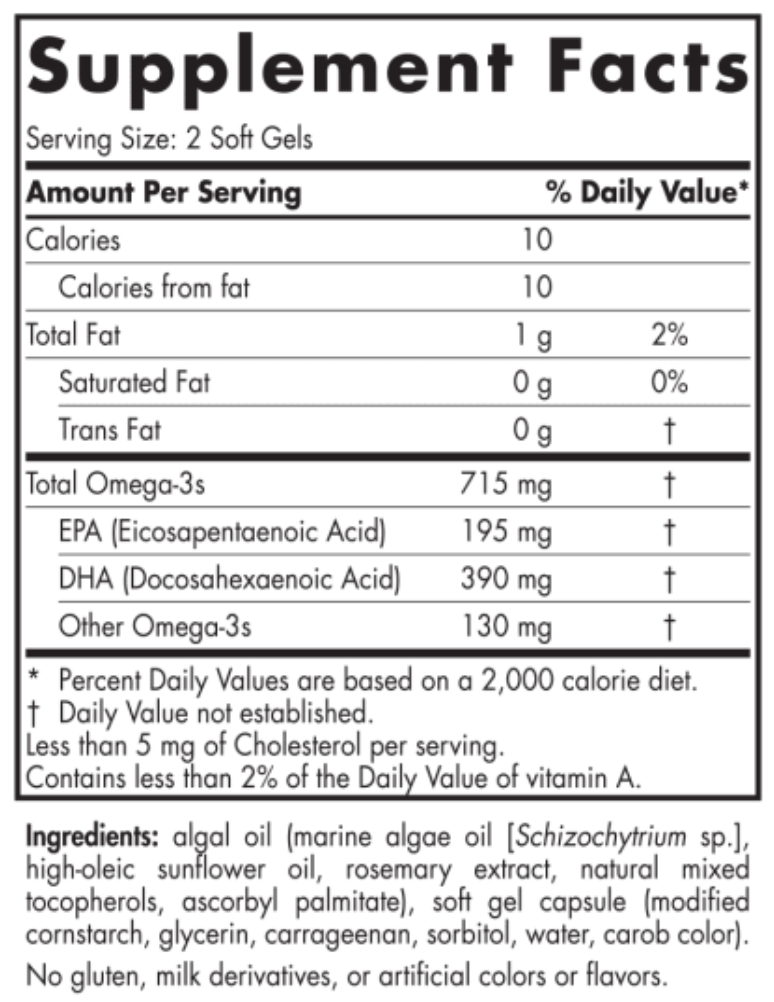 Ingredients: Algal oil (marine algae oil [Schizochytrium sp.], high-oleic sunflower oil, rosemary extract, natural mixed tocopherols, ascorbyl palmitate), soft gel capsule (modified cornstarch, glycerin, carrageenan, sorbitol, water, carob color).
View All
Close